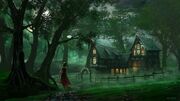 Sitting at a crossroads between a few minor towns is an Inn of moderate size and newish build, located in Azghor near the Tilean border.  There really aren't any large cities nearby of note, so traffic through the Inn remains at a relatively mild volume.
Basic Description
Edit
The Night Lady is moderately sized with at least two visible floors, a cozy cobbled Inn yard, and fully staffed stable.   The painted wooden sign at the front dipicts a brightly shining moon with a hooded and cloaked, but clearly female figure standing in sillouette. 
The Common room and dinning room compose the majority of the first floor, with the fully stocked kitchen in the back.  A stairwell to the side of the bar stretchs upward towards the second floor which boasts the rentable rooms.
Services Offered
Edit
The Night Lady Tavern and Inn happily offers:
A spacious stable staffed and equiped to handle most mounts and draft animals.
A full menu offering breakfast, dinner, and supper options.
A fully stocked bar with both local and imported brews, wines, and specialty drinks.
Comfortable, private rooms cleaned routinely.
Bathing facilities both private and shared.
Recently offered House Hosted Games!  These exciting games, held regularly, test any number of skills and abilities.  As a prize, the winner of each game may choose any one item of selected items, offered by the Inn.
Further Information (OOC)
Edit
For any questions about possible games, or working at "the inn" please see Vexx/EuphemiaGalla or Sydelle/Hedone, or if on Facebook feel free to post on Ever Realms' Facebook page.
Also see: