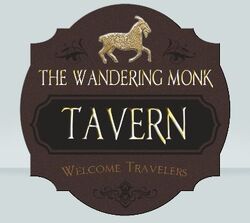 The Wandering Monk Tavern is a large Tavern and Inn located in the heart of the town of Armistead in Tilea. Formerly known as The Pipe and Mug, a failed Tavern due to the weak ale and bad food the Wandering Monk was purchased by the former Monk Bagheera Khan who almost immediately turned the reputation around by serving strong, flavorful wines, beers and spirits and by laying out some of the most flavorful and enticing meals the city has ever tasted. 
The Kitchen
Edit
The Wandering Monk's true claim to fame is her kitchens and at its helm is the owner, Bagheera Khan who lays out a daily spread of food that takes traditional Tilean dishes and completely reimagines them using influences and inspirations from the exotic lands of Tong. Bagheera uses only the freshest ingredients and traditional methods of preparation which does mean the food in a bit more expensive than the competition, but who wants to eat rancid meat and spoiled vegetable… 
The Wandering Monk serves fine wines from across Tilea and Stillbank as well as flavorful ales of Halfling, Human and dwarven makes as well as a full selection of spirits. Bagheera uses his connections at monasteries across the lands to secure his stock. The signature drink is the "Goat's Head Ale" which is a take on traditional monastery ale spiced up with traditional Halfling brew secrets. 
The Inn at the Wandering Monk boasts four private rooms and two sleeping bays each capable of sleeping ten people each. The rooms come with a complimentary fresh made breakfast each morning.